The big Bitcoin correction has not been unexpected. The mess it has left the rest of the crypto world in, however, is still being questioned. The altcoin apocalypse has deepened this Monday morning as double digit losses are flashing red across the boards today.
Crypto Markets Hemorrhage $50 Billion
In a weekend long selloff cryptocurrency markets have lost almost $50 billion in what has been one of the year's most violent retreats. At the end of last week total crypto market capitalization was around $320 billion and Bitcoin seemed pretty comfortable consolidating.
By Monday morning markets were battered and bruised, down to around $270 billion, their lowest levels for a month. The big slide started mid-week after Bitcoin tapped $13,000 and instantly retreated forming a big double top which is traditionally a bearish pattern.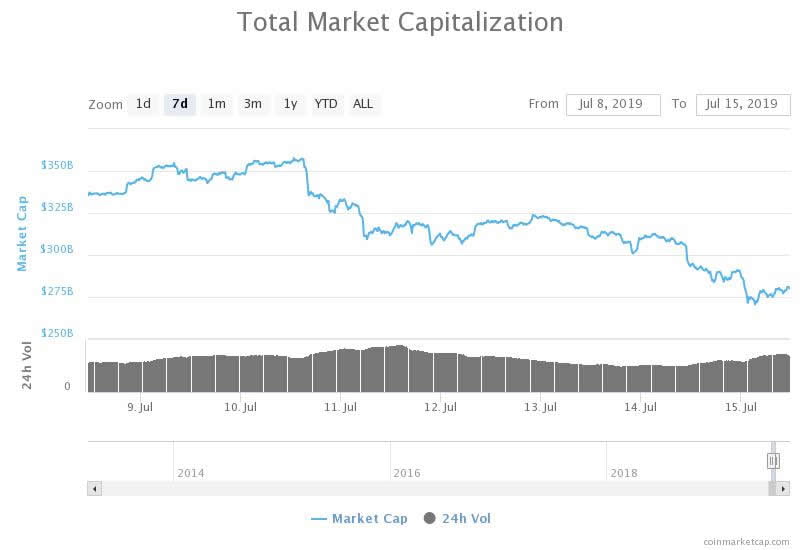 Total market cap 7 days. Coinmarketcap.com
A 25 percent plus correction sent BTC back below $10k again during early trading in Asia but it recovered back in to five figures and dominance has remained high at over 66 percent. The altcoins, however, have been utterly trounced leaving no survivors on bloody Monday.
The massive altcoin exodus has sent many of them close to levels not seen since the depths of crypto winter, six months ago. Meager gains over the past couple of months during Bitcoin's epic rally have been obliterated taking all hopes of 'altseason' with them.
Altcoin Apocalypse
Ethereum has been crushed, from trading comfortably over $300, ETH is now in danger of dropping below $200 again. The slide has widened the gap from all-time high back to 85 percent as Ethereum tumbled nearly twenty percent over the weekend.
A flash crash to $190 yesterday was an ominous sign and analysts expect Ethereum to make further losses especially if Bitcoin drops back into four figures. The long term prospects for ETH prices are good but at the moment it is in a world of pain.
The situation is equally grim for the rest of the altcoins today. Ripple's XRP came out relatively unscathed, only dropping 4.5 percent to fall back to $0.312 but the same could not be said for Litecoin. All halving fomo has been forgotten even though the event is just 20 days away now. LTC prices plunged back into double digits as the silver to BTC's gold crashed below $90 today.
Bitcoin's offshoots, Cash and SV, have both been battered dumping over 15 percent back to $280 and $120 respectively. Binance Coin, EOS and Stellar have all shed 8 percent on the day and Tether is creeping back up the market cap chart as the printers keep churning out more tokens.
More pain can be seen further down the altcoin charts with double digit dumps going on with Tron, Cardano, Monero, Dash, Chainlink, NEO, IOTA, Cosmos, and Ethereum Classic.
Losses are that bad that the frozen wastelands of crypto winter do not appear to be that far away again for many of the altcoins.
Image from Shutterstock
The post Altcoin Apocalypse Continues as Crypto Winter Threatens to Return appeared first on NewsBTC.