The total crypto market cap is below $210.0B and is likely to extend its decline.
Bitcoin price is trading below $8,000 and it is moving with a bearish angle.
EOS price is down more than 2% and is approaching the $2.700 and $2.650 support levels.
BCH price is facing resistance near the $225 level and it could revisit the $200 support area
Tron (TRX) price is approaching the $0.0130 level and it might continue to decline.
Cardano (ADA) price is down 5% and it recently broke the key $0.0385 support area.
Bitcoin and the crypto market cap are currently extending their decline. Ethereum (ETH), EOS, Tron (TRX), BCH, ripple, ADA and BNB are trading in a bearish zone.
Bitcoin Cash Price Analysis
After a strong decline, BCH price found support near the $200 level against the US Dollar. The price started an upside correction and traded above the $210 level. However, the price struggled to break the $225 resistance level and it is currently trading with a bearish bias.
It seems like the price might once again break the $210 support. If there is a downside break, the price could even break the key $200 support area in the near term.
EOS, Tron (TRX) and ADA Price Analysis
EOS price declined heavily and settled below the $3.000 support area. The price is currently trading below the $2.850 support area and it might soon test the $2.700 or $2.650 support. The main support on the downside is near the $2.500 level. On the upside, a close above $3.000 is needed for a decent recovery.
Tron price is trading in a strong downtrend below the $0.0150 level. TRX price even broke the $0.0140 support and it is currently approaching the $0.0130 level. If there are more downsides, the price could test the $0.0120 level in the coming sessions.
Cardano price is down more than 25% in the past few days and it is now trading well below the $0.0500 level. ADA price broke the $0.0400 support and it is now approaching the $0.0350 support. On the upside, the previous support near $0.0400 may perhaps act as a resistance area.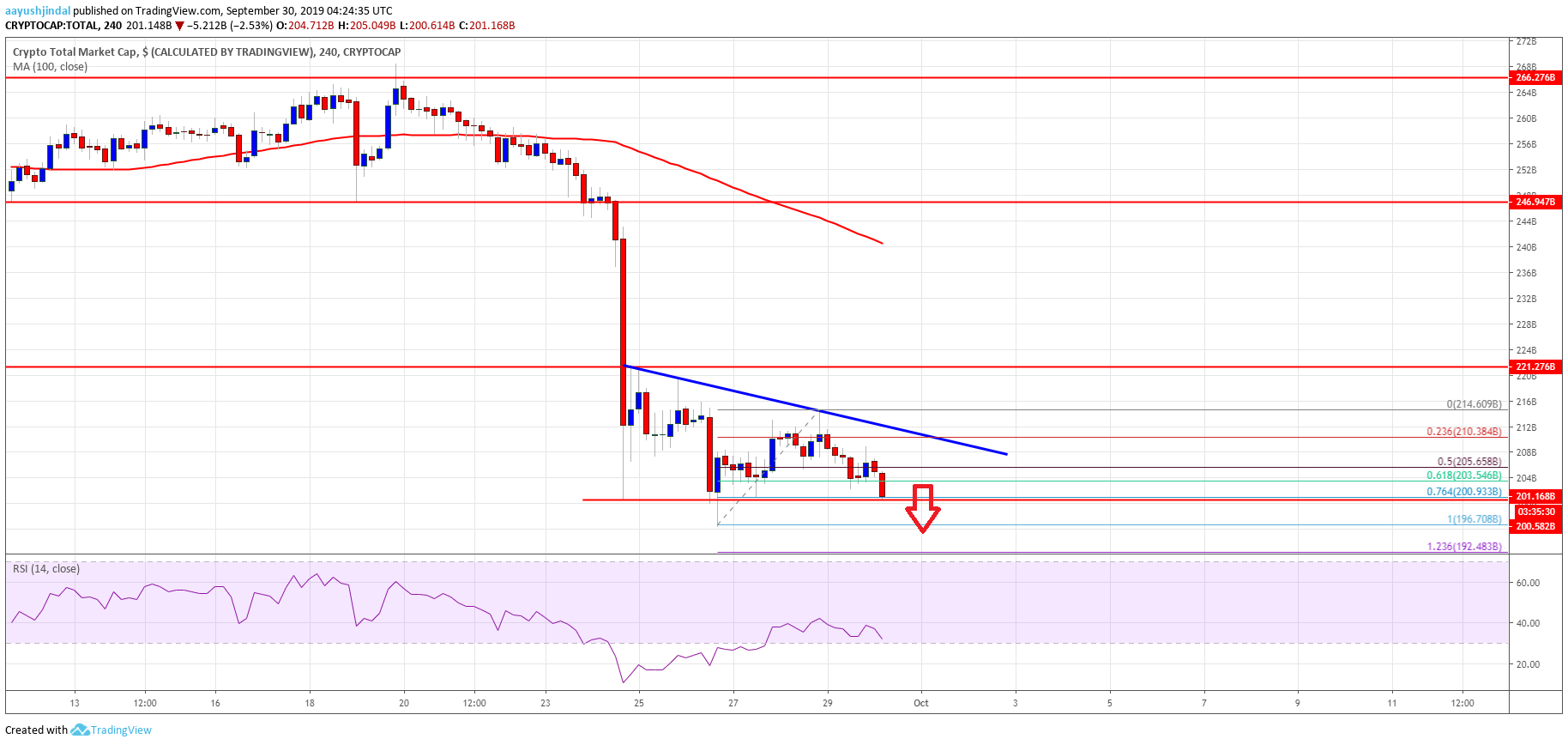 Looking at the total cryptocurrency market cap 4-hours chart, there are many bearish signs visible below the $210.0B and $220.0B resistance levels. Therefore, there are high chances of a downside break below the $200.0B and $195.0B support levels. The next key support on the downside is near the $180.0B level. Overall, there are many signs, suggesting more downsides in bitcoin, ETH, XRP, TRX, ADA, bitcoin cash, litecoin, EOS, stellar, IOTA, ICX, WAN, and other altcoins in the near term.
The post Bitcoin And Crypto Market Extending Decline: BCH, EOS, TRX, ADA Analysis appeared first on NewsBTC.