$10,000 was  an important FOMO trigger that once breached, and it did exactly what Tom Lee said it would. As soon as Bitcoin price went over the psychological resistance point, it quickly rallied through $11,000, $12,000, and $13,000, before a strong rejection at $14,000 may have stopped Bitcoin's parabolic rally in its tracks for good.
This morning, at roughly 11:30AM Eastern time, Bitcoin price briefly dipped below $10,000 to $9,950 before quickly bouncing higher. Will Bitcoin ever trade below $10,000 again?
Bitcoin Price Dips Below $10,000, Was This a Spring Before More Bull Run?
Bitcoin price is currently trading between $10,000 and a local high of $10,400 after a strong, rally-ending rejection send Bitcoin downward back toward $10,000, which it briefly dipped below this morning.
Related Reading | Tom Lee: Bitcoin Price Nearing FOMO Trigger, BTC To Trade Between $20K and $40K
In markets, when an asset dips below an important support momentarily and it acts like rocket fuel, taking the asset much higher, the support and move is defined as a "spring."
Since the start of April, Bitcoin has gone parabolic and has mostly managed to avoid any significant correction – until now. But because of how significant of support $10,000 may be now after flipping from resistance to support, Bitcoin may never again trade in the four-digits, and this latest dip may be nothing more than a "spring" before more upward movement.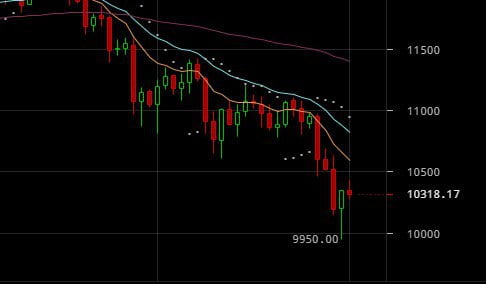 Will We Ever See Four-Digit BTC Ever Again?
If $10,000 wasn't a spring, the important support just was tested for the first time. Each "test" causes the support or resistance to weaken, as more and more orders are removed from that cluster of price action.
After repeated tests, the order book is cleared of any orders in this area, and the next time price revisits the area, it is then able to break through cleanly. If this test was indeed a spring, according to Wyckoff accumulation theory, mark up would be next, and the bull run will continue from here.
No further downside would be anticipated, and Bitcoin would likely never again trade below five digits. However, should Bitcoin break through $10,000, supports lower will need to hold. Previous areas where a confluence of price action occurred could serve as support for further downside.
Related Reading | Bubble Hasn't Begun: Google Trends Shows Little Interest in $10,000 BTC
Any dips below $10,000 much like this last one should be bought up quickly, as many are expecting the next bull run to only have just begun, and analysts are recommending traders buy each fresh dip in Bitcoin price as they occur.
Between the market sentiment, Bitcoin's potential, and the fact that the asset is so scarce selling may be all but dried up, the likelihood that Bitcoin recovers from here is very high.
Featured image from Shutterstock
The post Bitcoin Price Briefly Dips Below $10,000 Into Four-Digits appeared first on NewsBTC.