It is very impressive how well Bitcoin is holding itself at the moment. With a majority of the market undergoing corrections, the king coin has maintained its position at the top, holding its own above the $10,800-mark, at the time of writing. In fact, BTC's own movement possibly contributed to a minor spike on the charts of the market's altcoins.
Source: Coinstats
However, take a closer look, and it would seem that Bitcoin's price still is a house of cards. And, it is not just the pessimistic side in me saying so, but fundamentals are telling a similar story too.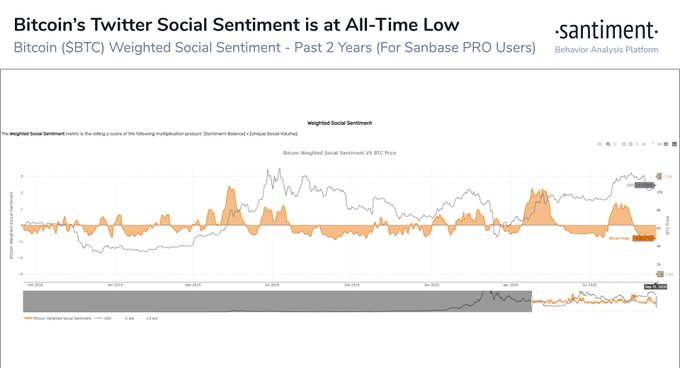 Source: Twitter
Santiment's analysis found that despite a higher price position on the charts, Bitcoin was not winning any social sentiment points. In fact, Bitcoin's Market Sentiment is presently at its lowest in 2 years, a development that suggests that the volume of BTC mentions have been largely negative lately.
Besides Social Sentiment, the world's largest crypto-asset is also noting some remarkable changes in investor behavior.
Bitcoin's Coin Days Destroyed Volume picking up; Long-Term Investors cashing out?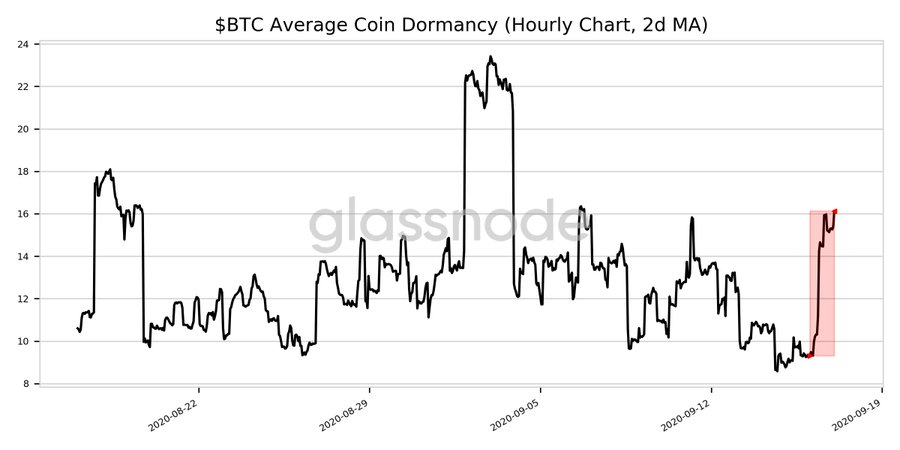 Source: Twitter
The attached chart illustrates Bitcoin's average coin dormancy, which is usually calculated using the ratio between total coin days destroyed and the total transfer volume.
In layman's terms, the chart's findings suggested that Bitcoin's CDD was registering a change after undergoing stagnancy for the past few weeks. As was discussed in a previous article, CDD was once strong for Bitcoin and long-term investors were not cashing out during the dip in June and also for a while in July.
However, at the time of writing, with average dormancy going up, it can be inferred that some long-term investors are indeed looking for a way out.
First Options, Now Fundamentals – How long can Bitcoin hold?
With the cards flipping against Bitcoin every passing day, it feels like a matter of time before Bitcoin re-tests the lower range of $9,000. In fact, 24-hours ago, Bitcoin Options traders were putting up an extremely huge amount of sell-contracts for the end of September, all ranging between the strike price of $8500-$9500.
Bitcoin surviving a possible fall now would be the biggest story of the year. However, in order to embark on a long-term bullish run, the imminent correction must be welcomed as inevitable.
The post Bitcoin's House of Cards is not one for Sentiment appeared first on AMBCrypto.