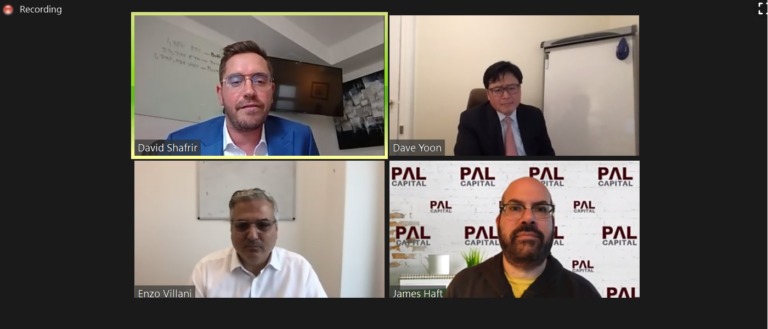 GDA Capital organized the quarterly Global Family Office Summit this week. The event was held virtually with a number of technology leaders and high net worth investors who discussed issues such as education, trust and responsibility to give back. Among these were insightful conversations with Dubai-based Dalma Capital's CEO Zachari Cefaratti, Holt Fintech Accelerator founder Brendan Hold Dunn, Global Data Sentinel CEO and White City Ventures Chairman of the Board Shahal Khan, and Elitium CEO Raoul Milhado, among others. Participants were also given access to off-market opportunities to invest in novel technologies.
Will Bartlett, GDA Capital's Director of Research, headlined the event by focusing on tech in the modern economy, and identifying six sectors where new technologies can make a lasting impact: robotics, space, biotech, machine learning, quantum computing, and blockchain. In the context of blockchain, he discussed how digital assets are a hedge against traditional financial markets. "Cryptocurrencies have no exposure to stock market returns, macroeconomic factors, or returns of currencies and commodities," Bartlett said.
More so, Bartlett believes that new models for digital assets such as DigitalBits' branded stablecoins are key to the development of the field. These currencies replace traditional rewards and loyalty point systems that are commonly used by household brands by porting them to the blockchain. Meanwhile, they rely on brand value to fend off volatility.
DigitalBits founder Al Burgio explained how this presents an opportunity to address a large-scale problem. The points economy represents billions in idle capital and tackling it will be "a process; once you go through it you see the reaction of others. It is about building blocks."
Likewise, GDA Capital Chairman David Shafrir, Alpha Sigma Capital CEO Enzo Villani, PAL Capital founder James Haft, and recognized European asset manager Nicholas Verwilghen addressed alternative asset investments. Haft deemed that "alternative assets are an onramp, a sandbox to become mainstream," while Verwilghen believes that custody of assets is the key to driving institutional investments. Villani also shared a bright outlook as we see central banks get into the space.
The tone of the event can perhaps be summarized by serial entrepreneur and investor Candace Johnson's keynote address. She shared why she doesn't see blockchain as merely disruptive, but as a way to "build a better world." For her, "data-driven algorithmic technologies are responsible for today's digital transformation in almost all fields, from hard sciences, to social sciences, to the humanities, as well as in a variety of sectors, from health and commerce, to education, law and the arts." Blockchain is no exception.
The post GDA Capital in Conversation About the Future of Digital Assets at Global Family Office Summit appeared first on Global Coin Report.
Read more at https://globalcoinreport.com/gda-capital-in-conversation-about-the-future-of-digital-assets-at-global-family-office-summit/