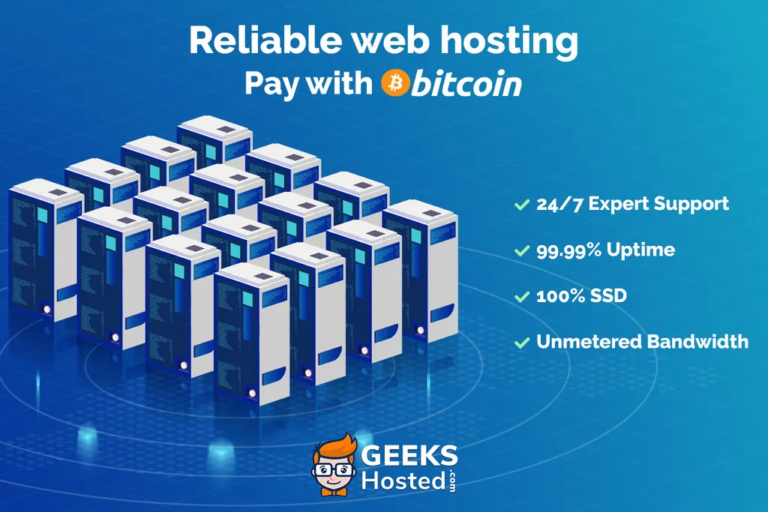 Premiere web hosting service provider GeeksHosted, the household name in serving web hosting services to the tech-savvy community, is now cementing its reputation by accepting crypto payments. This extends their services to individuals who place a high value on privacy and control over their own money, and who are more inclined to these forms of digital payments.
New Payment Option
Cryptocurrencies have changed the way digital payments are viewed and have introduced healthy competition in the digital payment ecosystem, as they now allow for transactions to be conducted across the globe in the most direct and efficient way possible.
A growing awareness of crypto-payments and their potential to revolutionize the internet economy places GeeksHosted at a strategic position in the web industry. They now have new extensive payment options – which includes Bitcoin payments and a host of 50 other cryptocurrencies such as ETH, XRP, LTC, BCH, DASH, a few Stablecoins and others.
Outstanding Performance
GeeksHosted's latest development comes hot on the heels of the successful launch of its state-of-the-art data center, designed to offer affordable high-performance dedicated servers to its clients. With 15,000 businesses calling GeeksHosted their home for hosting, the growth of its clientele is all the more surprising given that the company has only relied on word-of-mouth advertising.
Its formula of customer-centric principles appears to have worked wonders for growth, surprising even the team members themselves. GeeksHosted's Catalin Florica shared:
"We didn't expect it. Our customers are buying our cheap dedicated servers in large numbers. We can hardly keep up with the orders. It was actually quite a nice surprise."
Service Features
GeeksHosted offers discounted dedicated servers with 2 months off and an additional 20% discount for the first month when subscribers pay for a whole year's worth of subscription. The value-for-money premium hosting plans covering web hosting, WordPress hosting, VPS hosting, and dedicated servers that rival with top players in the industry.
The company also offers cut-rate reseller hosting services as well as shared bandwidth service to cater for those who need microservices.
Overall, the platform offers quality services with 99.99% uptime and affordable premium web hosting plans that start as low as $1.95 per month from which their customers can leverage the opportunity to run web applications on a high-performance dedicated server at a considerably lower price.
To learn more about the platform visit the website https://www.geekshosted.com/
The post GeeksHosted Web Hosting Platform Enables Crypto Payments appeared first on Global Coin Report.
Read more at https://globalcoinreport.com/geekshosted-web-hosting-platform-enables-crypto-payments/