The crypto market has seen a flurry of activity over the past week. Altcoins from Cardano (ADA) and Compound (COMP) to VeChain (VET) and Chainlink (LINK) are all strongly outperforming Bitcoin. They're outperforming the market leader by literally dozens of percent.
Some hot crypto assets have found a top: COMP has dropped 50 percent from its all-time high and ADA's rally stopped abruptly at $0.14.
Yet there is an analyst that says Chainlink will buck the trend, citing technical and on-chain evidence indicating LINK is in a "parabolic advance."
The evidence suggesting Chainlink is in a "parabolic advance"
According to Cole Garner, an on-chain analyst and forex trader, Chainlink is likely in the midst of a "full-blown parabolic advance" after setting new high after new high over recent days.
Extrapolating the price action from LINK's last major bull run in 2019, he suggested that the crypto still has room to rally by at least 50 percent against Bitcoin.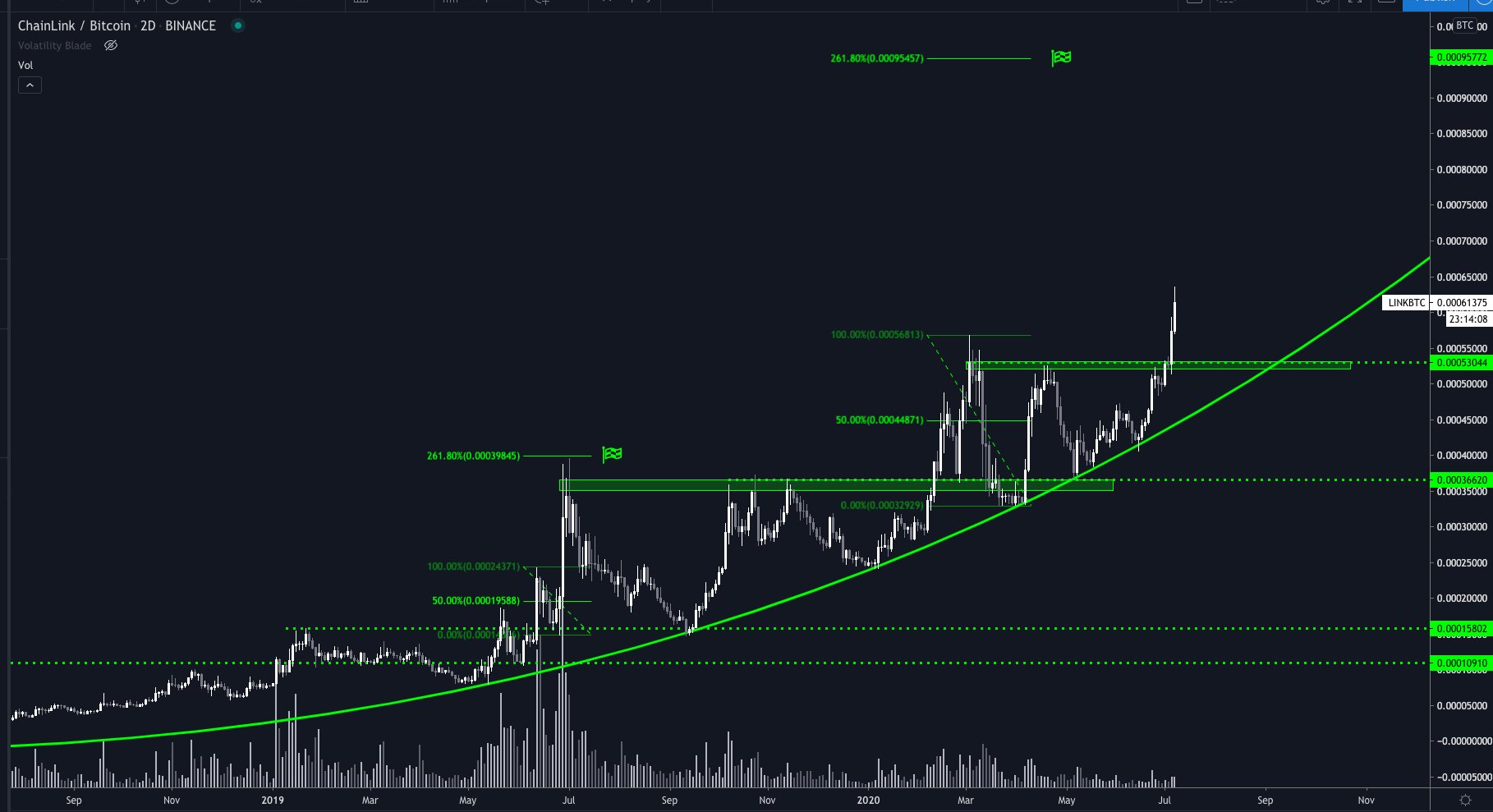 Chainlink/Bitcoin chart by Cole Garner, from TradingView
This positive sentiment is corroborated by a swath of on-chain, exchange, and sentiment signals, including:
LINK's Mean Dollar Invested Age is curling down. Every time this metric has curled down in the past year, the cryptocurrency proceeded to rally even further, going parabolic.
The amount of the altcoin on exchanges has trended lower and lower over the past two years, indicating a decrease in potential selling pressure.
Chainlink's order book on Binance is showing that investors are still "skewed long."
LINK's on-chain volume is still not yet at bubble levels.
Chainlink is the leading "emerging trend" in crypto social media circles.
Don't count out a LINK sell-off
Despite these signs, not everyone is convinced Chainlink's rally is sustainable.
As reported by CryptoSlate previously, blockchain analytics firm Santiment reported on Jul. 5 that LINK's market value to realized value (MVRV) ratio is at an all-time high value. This has only been exacerbated since then as the altcoin has continued its ascent
This indicator at such a high value indicates that "almost everyone holding LINK is in profit," which Santiment asserts is a "dangerous" trend.
Shortly after Santiment released this data, one of the company's contemporaries, Glassnode, found that $15 million worth of LINK was sent to Binance in 5,000 different transactions. Some thought this was going to be a catalyst for a dump, but a retracement never really took place.
The issue with the MVRV indicator is that it assumes a large portion of investors eventually take profit on their trades. As is the case with Synthetix, Bitcoin, and other cryptocurrencies, there are often investors that are willing to hold their assets at all costs, rendering the MVRV indicator somewhat moot.
The post On-chain analyst explains why Chainlink (LINK) is in a "parabolic advance" appeared first on CryptoSlate.