Decentralized finance is making the media more often as concern grows over another global banking crisis. Ethereum is at the forefront of DeFi platforms at the moment and Maker is the market leader with over 50% share. The launch of a new multi-collateral Dai could send both higher.
Ethereum Based DeFi Evolves
Maker has a fair few accolades going for it. It is by far the most successful Ethereum based money protocol. According to defipulse.com Maker accounts for over half of the $650 million locked in DeFi. As much as 2% of the total supply of Ethereum is also locked in on the platform and over 2.4 million ETH is locked in DeFi in total.
Just this week Dai hit a $100 million supply for the first time as DeFi gathers steam in a world where banks cannot be trusted. The multi-collateral Dai (MCD) is nearing launch date and this is definitely causing Maker (MKR) to pump at the moment.
MakerDAO is the organization behind the Dai stablecoin and its accompanying decentralized credit system. Dai is dollar pegged but not dollar backed. It is more valuable because it derives its worth from pledged collateral. The supply is dynamic because it is created and destroyed based on loans made relative to that collateral. It is the backbone of the DeFi system of Ethereum blockchain and smart contract based lending.
In a detailed report the Maker Foundation's Gregory Di Prisco explains the evolution of the multi-collateral Dai which will allow more tokens to be used as collateral. The last month's DevCon 5 in Osaka, Japan, CEO of the Maker Foundation, Rune Christensen, revealed that the MCD is ready to launch on November 18, just ten days away now.
It will mark a huge milestone reached for the MakerDAO project and a turning point that will have a strong impact on the future of DeFi. The MCD will include a highly anticipated Dai Savings Rate (DSR) which gives the option to earn savings simply by holding Dai.
The blog went on to add;
"Multi-Collateral Dai represents a tool in the DeFi toolbox that can help harness the power of money to solve global problems. Because of DeFi's reliance on transparent, honest collaboration, even the most extreme global financial inequality might one day become a thing of the past."
11 days out from the launch of the multi-collateral Dai

So here's a question:
Why Multi-Collateral DAI?

And…

Why is a credit money better?
Why is a stable money necessary?
Why did Bitcoin fail part of its original vision?

Post by Gregory Di Priscohttps://t.co/EcZ43OAvhi

— Ryan Sean Adams – rsa.eth (@RyanSAdams) November 7, 2019
Maker On The Move
As the MCD launch date nears Maker prices have started to move. MKR is today's top performing crypto asset surging 15% in the past 24 hours.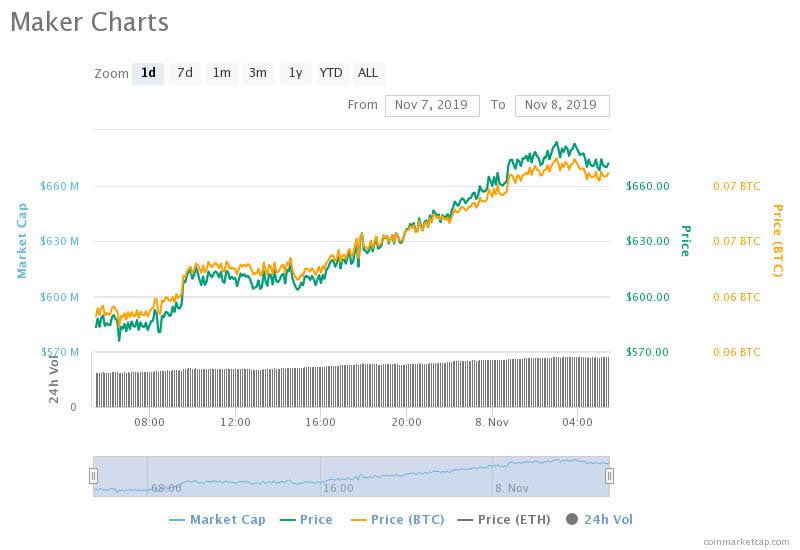 MKR prices 24 hours – Coinmerketcap.com
MKR shifted from $575 to top out above $680 as volume lifted from $5 to $7 billion. Since this time last week Maker is up 25% making it one of the top performing altcoins at the moment.
Momentum is likely to continue as the MCD launches and DeFi picks up pace. Ethereum will only follow in time as it becomes the standard monetary platform of the future.
Image from Shutterstock
The post Maker (MKR) Moving on Multi-Collateral Dai Launch, Will Ethereum Follow? appeared first on NewsBTC.